In the saddle under the southern sun
High in the mountains of Spain, not far from Madrid. In this beautiful landscape I worked for half a year to get to know the classical art of riding, the Lusitano, as well as the country and its people better. A foreign adventure and a unique experience for horse people. Thank you Leonie for this unforgettable time and everything I was able to learn from you.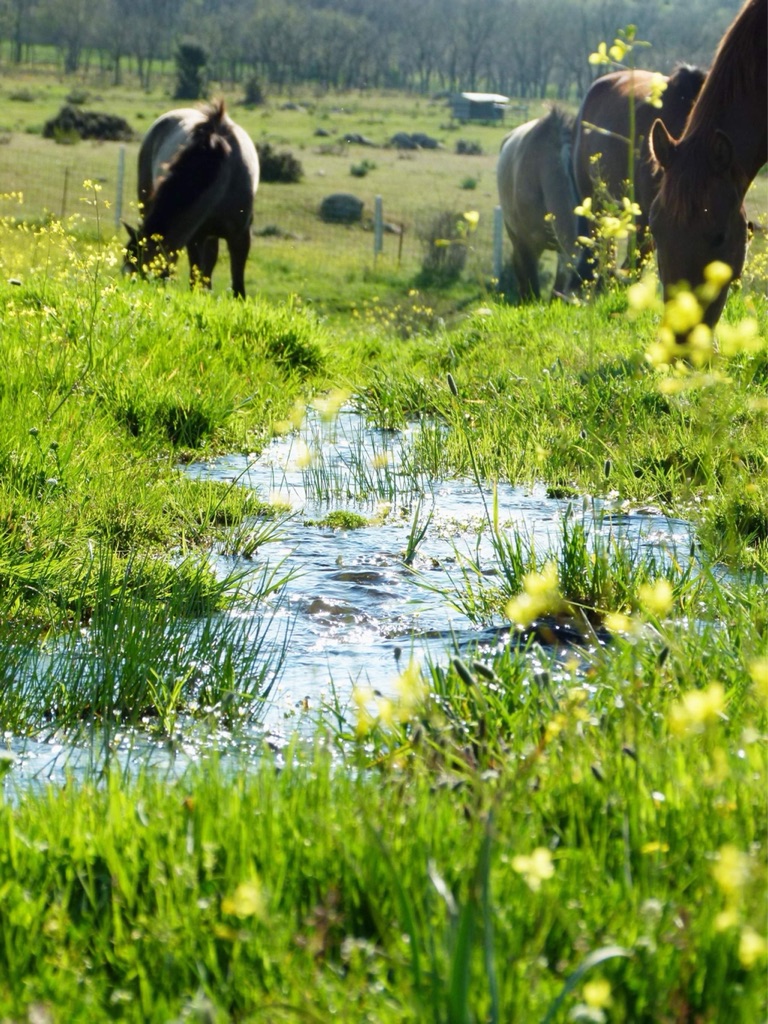 Lusitano alarm clock
I never really needed an alarm clock in the morning, because right in front of my door 16 Lusitano stallions were waiting loudly for their breakfast. For me, there was almost nothing better at that time than to be woken up by the light rays of the sun, which, accompanied by the snorting of horses, penetrated through the small windows of my caravan. So gladly I take myself back to the year 2013 and now invite you to a little story.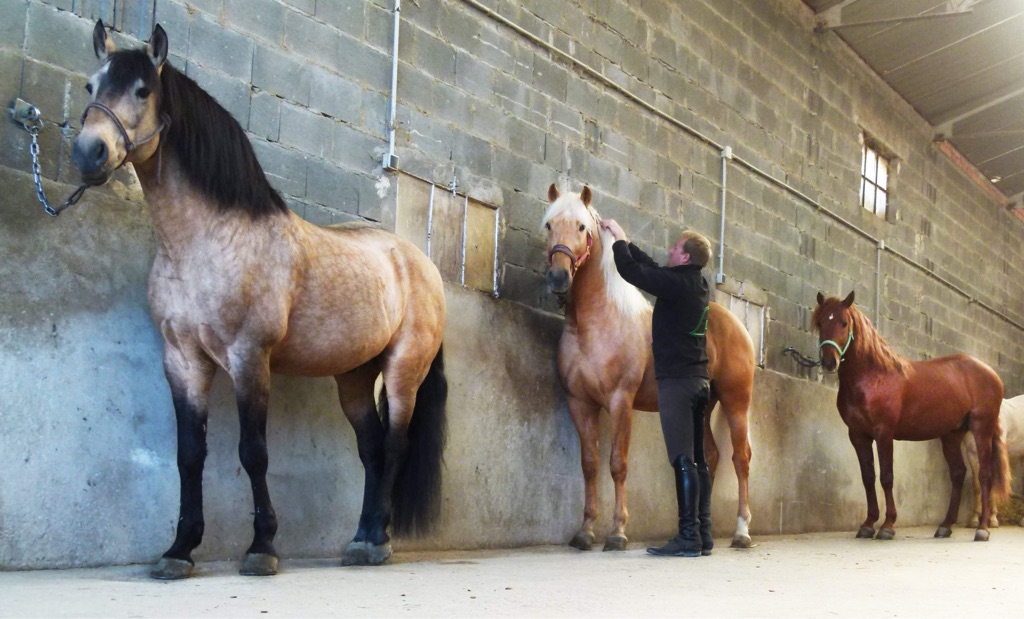 My little stud story
Breathtaking start to the day
As soon as I open the door, I find myself in the middle of the 1000 hectare stud farm, surrounded by the breathtaking mountain landscape of Castile and Leon, just 30 minutes from the beautiful city of Segovia. And yes, I live here in a caravan, which may sound worse than it actually is to some people. But I have a bed, a bathroom, a table, seating and even space. But apart from that, I am only there to sleep, as most of the stud life takes place outside, around the animals. My caravan is directly opposite the stud house. On my way there, the dogs and cats living here greet me full of joy for the new day. The day usually begins with breakfast together at Leonie's house. At the large, round table there is muesli, fruit, coffee or tea to fortify us and we talk about all the things that await us today.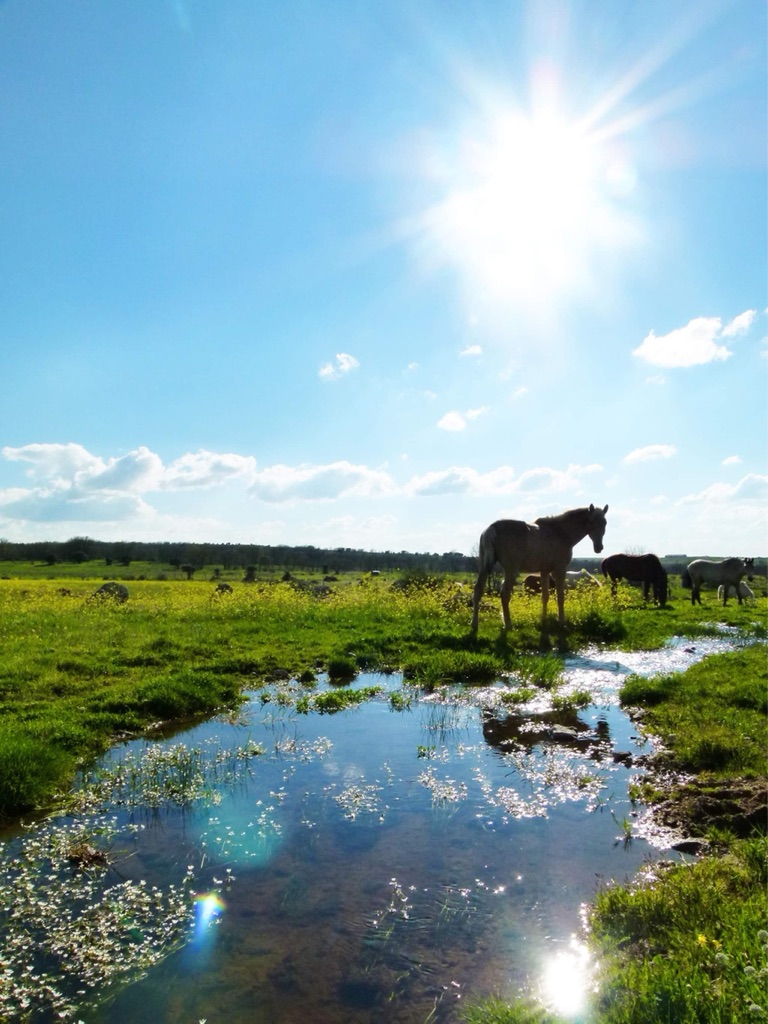 Things always turn out differently than planned
The fact that many things don't go according to plan and that something often comes up is normal here in Spain, which we take very calmly as time goes by. One Wednesday, Adam, an employee of the stud, came up to me and said excitedly: "Saddle the bay quickly and ride up to the pasture. A cow is trying to calve and can't do it on her own – we have to help her!" My Spanish was just enough to understand half of the sentence. But by communicating with hands and feet, we managed to bring the calf into the world in good health. I have to say that you don't just ride up to the meadow here, because the cow and horse pastures are so huge that 60 minutes are sometimes not enough. Of course, something like that is exciting for a (then) 24-year-old city kid like me, but rather the exception, as my work mainly revolves around the horses – which I don't like to judge as less exciting.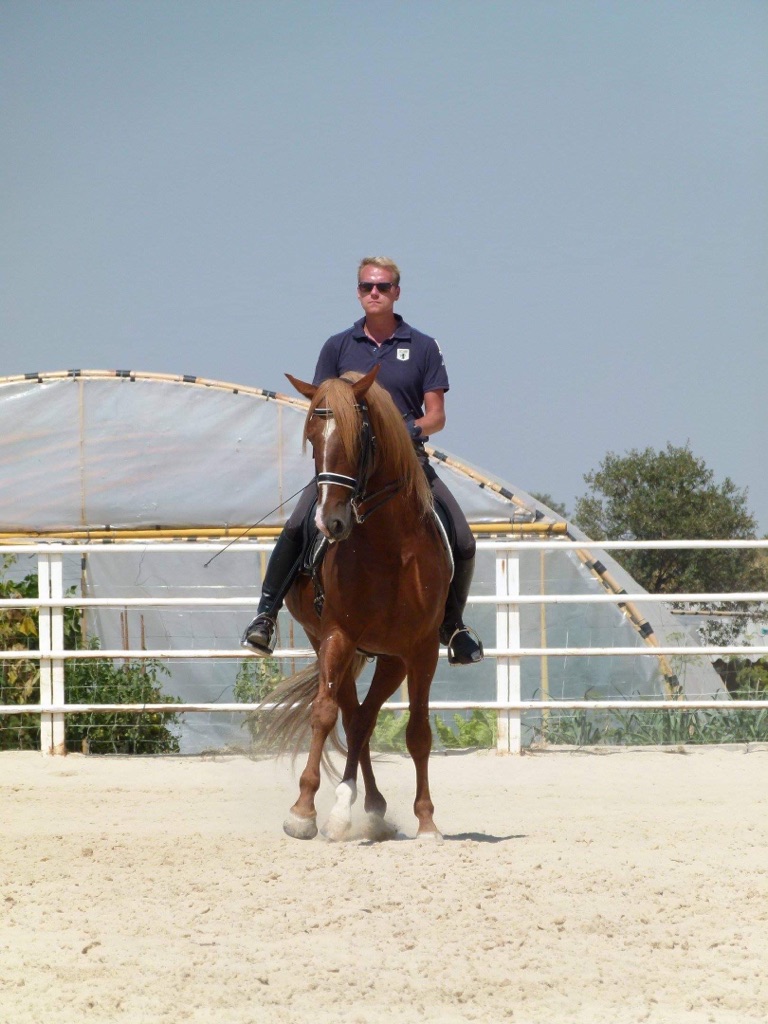 Every horse gets the time it needs here
This includes breaking in the four-year-old stallions, training the younger stallions, as well as learning from the older stallions – and that up to high school lessons. This is how I was able to ride my first Levade on the school stallion Vingador at the stud and get to know the work in hand. All horses are trained according to the principles of classical horsemanship. They are ridden on an almost fantastically situated riding arena, from which I let my gaze wander over the entire landscape until I lose myself in the distance, where mares and foals are splashing in the lakes of the pastures. During my time at the stud, there are days when I do a lot of handwork or lungeing, but also days when I ride up to ten horses at a time. I work up a good sweat under the Spanish sun at an altitude of 1100 metres. Through the constant riding lessons and the riding of the young remonts up to the highly trained horses, I have been able to improve my riding skills in a very short time and learn a lot from Leonie's expertise. Special attention is paid to the fine influence of the rider's aids and a correct seat. When the young Lusitanos come from the pastures to the stables as four-year-olds, we start to work with them gently. The most important thing is to gain their trust and to awaken their enjoyment of working with humans. Then they are trained correctly according to classical principles. Great importance is attached to working, breaking in and training the horses gently and individually. They should react to fine aids and enjoy training. A fast and insensitive training method, which is unfortunately common in Spain, is not found here.
Convincing in all disciplines
At my time (2013), there are 24 ridden stallions and three ridden mares in the stables of the stud. In total, Yeguada La Perla houses over 150 horses, most of which are mares and foals, as well as yearlings. They live in groups all year round on huge pastures around the stud. The Lusitanos are said to be noble, good-natured and fiery, but always docile and docile. Due to these characteristics and their build, Lusitanos excel as all-rounders in dressage, jumping, driving or working equitation. But especially for dressage and classical riding this breed, which was originally bred for bullfighting, seems to be almost perfect. With a medium weight and a height of about 1.60 m, the Lusitano convinces with rideability, permeability, elegance and lightness. The breeding goal is agile and sublime movements that are always forward and comfortable for the rider. This makes him suitable for the classic FN/FEI disciplines and he can compete with the international "gaited machines" in high classes. In addition, the variety of colours in this breed is still almost completely preserved and dun horses, palominos or cremellos are not rare but welcome.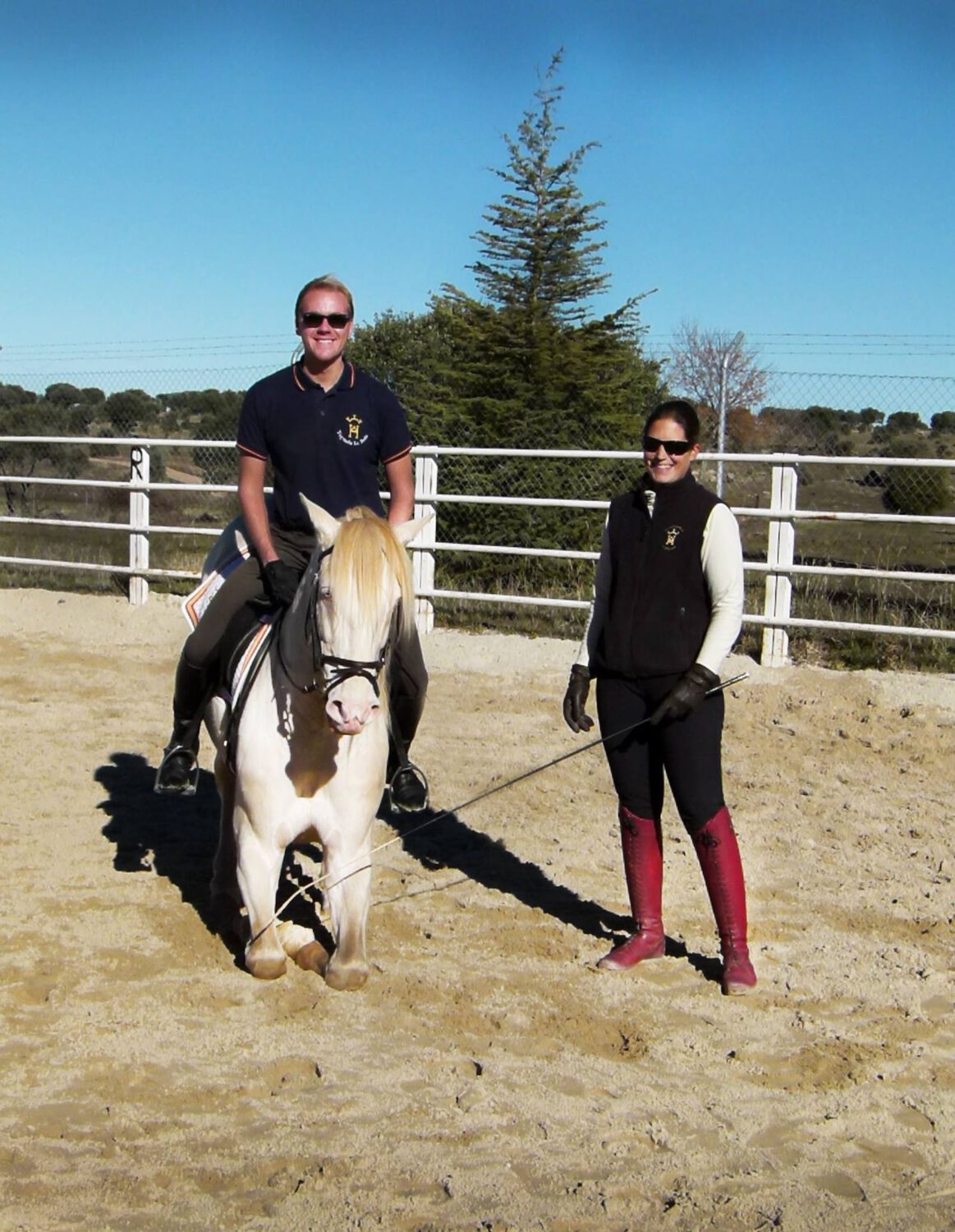 Big city kid
I myself come from the big city of Düsseldorf and life in the mountains is a completely new experience for me. It includes, for example, harvesting vegetables from my own garden, fetching water from a spring or getting by with the fact that the nearest supermarket is 30 minutes away – and the nearest discotheque, by the way. But I have to say: I really like living in the mountains and I'm busy enough that it's enough to socialise on the weekends. Besides work, Leonie makes sure I get to know Spain well enough. This includes trips to the surrounding cities of Segovia, Madrid or Salamanca, as well as visits to fiestas, flamenco performances and the Lusitano Festival in Golega (Portugal). Such excursions are very motivating for the work at the stud. In addition, the free time compensation is always in good proportion to the work. The sun shines up to 12 hours a day here, so there is often time left over to lie by the pool and relax on days off or even after work. The horses also enjoy this great climate. Despite the fact that stallions are kept here, care is always taken to ensure that each horse can let off steam and relax in the paddock in addition to its work. Extensive rolling around and napping in the sun are just part of it. As a result, the stallions of Yeguada La Perla are particularly well-balanced and happy to work.
I love Lusitanos. I love La Perla
Schöne Erinnerungen an eine Zeit, die meiner reiterlichen und persönlichen Weiterentwicklung diente und jedem zu empfehlen ist." Seit 2013 verbindet Leonie und mich eine Freundschaft und Verbundenheit. Zumindest alle zwei Jahre versuche ich zu Besuch zu kommen, um an diesem einzigartigen Fleckchen Erde Energie und Inspiration zu tanken. Ein magischer Ort mit einer für mich unvergesslichen Geschichte. I Love Lusitanos. I Love La Perla.