The La Perla love story of a different kind
In summer 2014, we (Wolfgang and Katrin) saw the wonderful Leonie for the first time at the Equitana Open Air. There, the opening of the "House of Dressage" in Münster was announced; at that time a kind of "Dependance" of La Perla in Germany. My husband (at that time still my partner) and I became curious and went to Münster on the opening day. What I didn't know at the time was that Wolfgang had been thinking for some time about when, how and also where he could propose to me "perfectly".
We enjoyed marvelling at the magnificent horses and looked at the beautiful grounds.
That day gave birth to a wonderful idea…
The 1st of September 2014
Then for my birthday in early September 2014, I got a voucher for a "Surprise Sunday" in October. I was supposed to be ready to go at 11 am. That's all I knew.
So off I went, from the Ruhr area into the car on the A43 heading north. I was completely clueless. Where would we go? To the Starlight Express in Bochum? To some exhibition in Dortmund? No, Wolfgang took the Münster exit and at some point it was clear that we were going to the equestrian centre. I thought "Oh wow! Maybe I'll get to take a course!" But there wasn't a single other car in the car park. So I guess no course after all. I thought "Oh, wow! I'll probably have one-to-one training. Cool!" We got out and Wolfgang moved around the facility with a confidence and naturalness that completely amazed me. He opened the gate to the riding hall. Not a soul in sight. We entered the indoor arena, trudged across and right in the middle Wolfgang asked me to stop and wait, facing the big gate. I was completely confused and still TOTALLY AWARE!!! But I stood still and waited.
The knight and Xinfrim
At some point I heard music and Wolfgang's voice "You can turn around" … And there he came, my "knight", riding into the hall on the beautiful Xinfrim.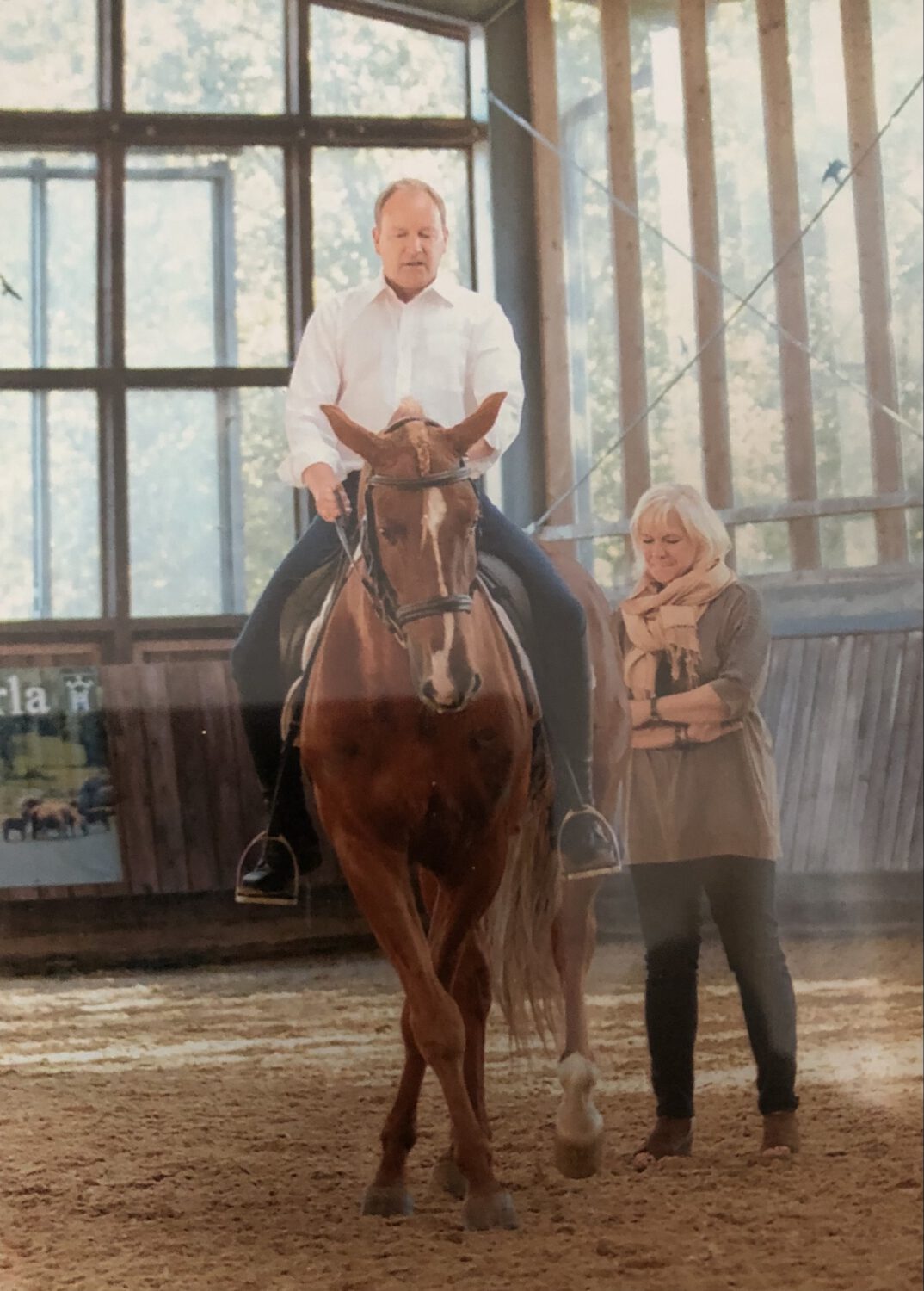 My first thought was "Oh, wow! Wolfgang has bought himself a horse" (at that time I had no idea and no idea that Xinfrim was a great breeding stallion and so not at all in our "price range").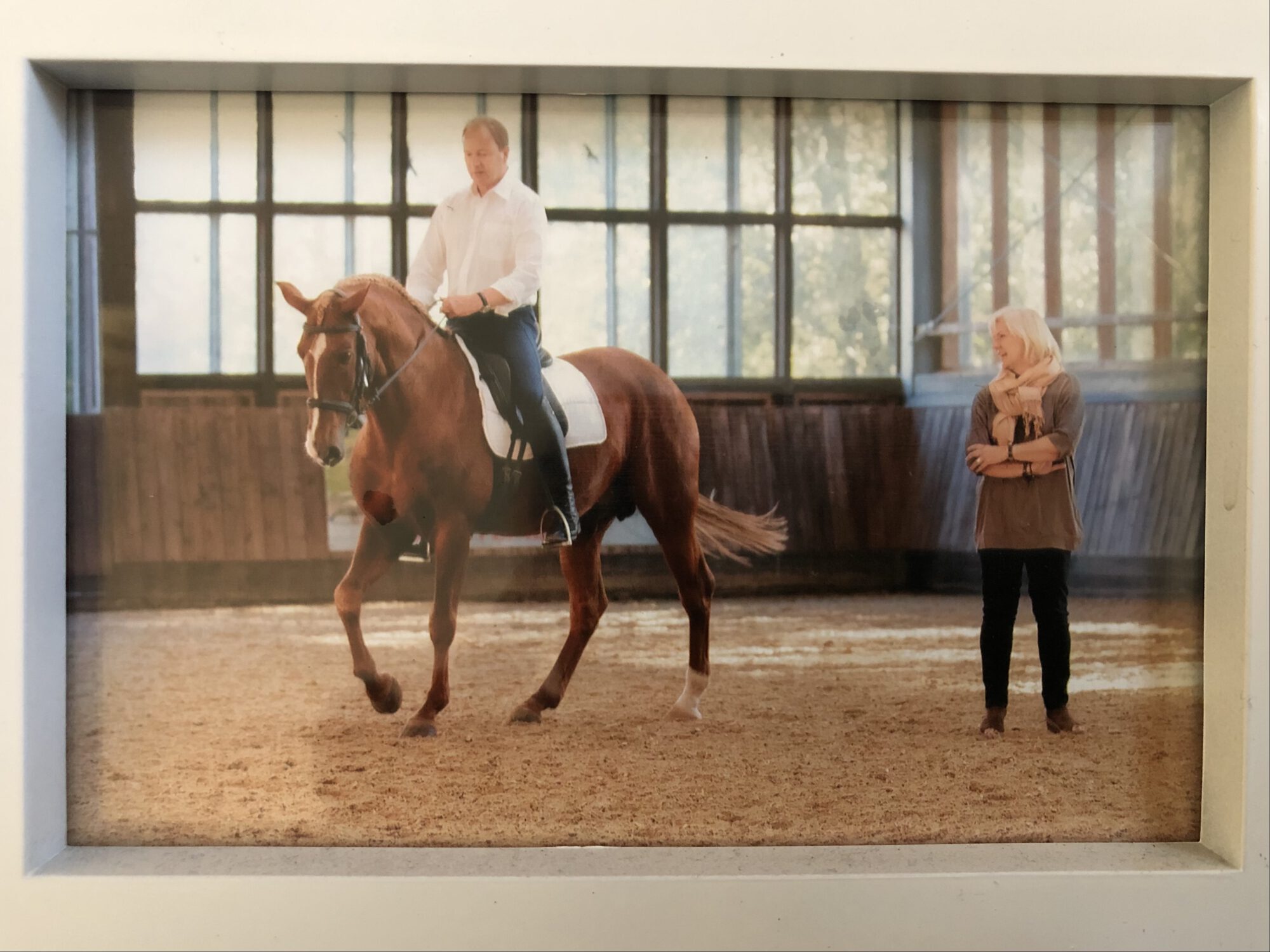 And so Wolfgang rode a very beautiful freestyle for me on this dreamlike, unique horse, accompanied by very personal, relationship-laden music, and slowly it became clear to me where this was going… After a few minutes (or was it hours?) Wolfgang stopped next to me and pressed Xinfrim's reins into my hand. He left the hall to come back immediately with a long-stemmed red rose in his hand, went down on his knees in front of me and asked me to marry him with wonderful words ABSOLUTELY PERFECT.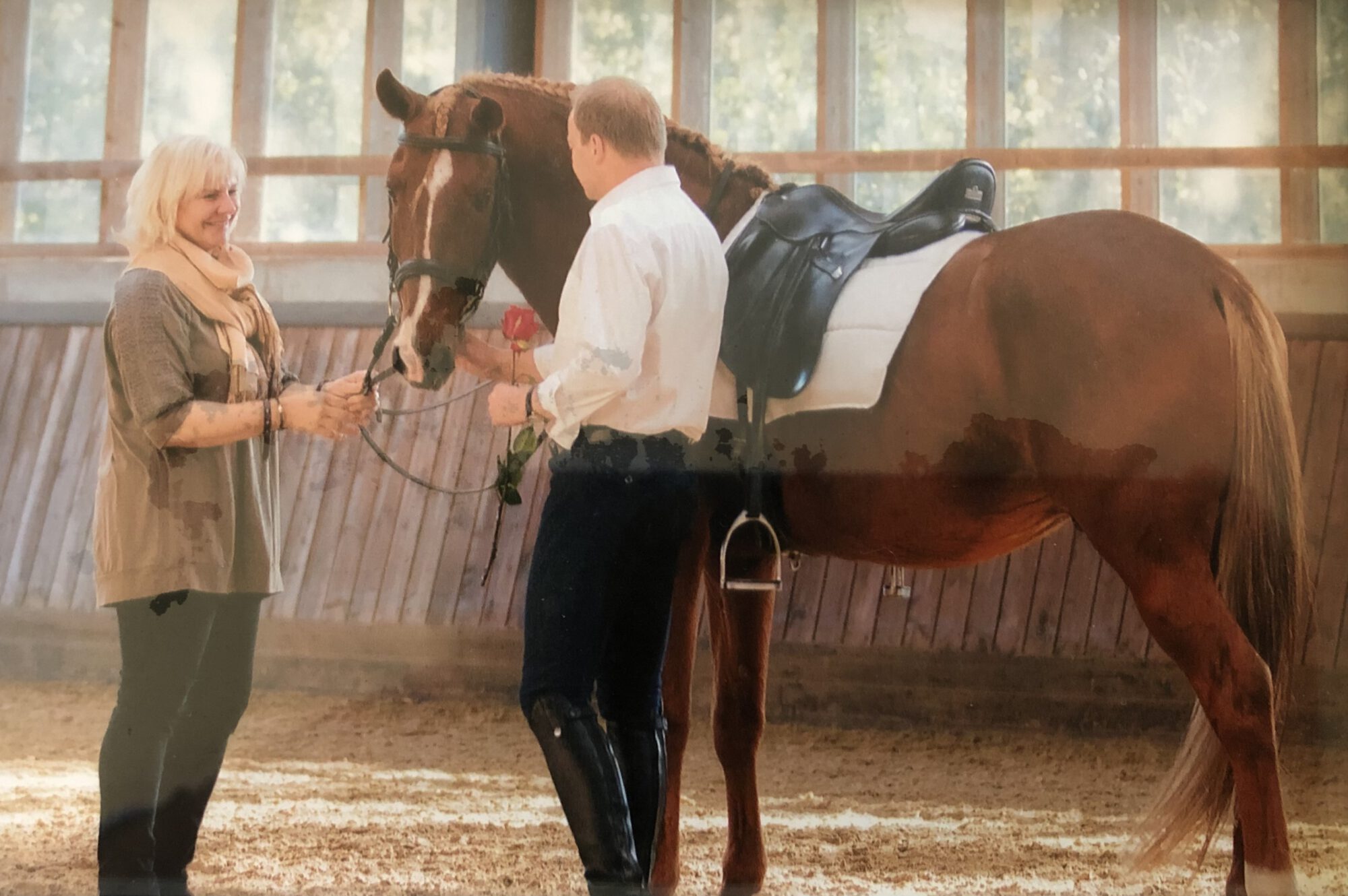 Overjoyed
I was completely flashed and absolutely overwhelmed.
Only now I did realise that a photographer was standing in the corner of the hall taking pictures of this event. And then the wonderful Leonie immediately appeared with champagne to toast us. I was moved to tears, stunned and HAPPY!
Secret training
Afterwards, of course, I only found out what Leonie and Wolfgang had been up to for weeks. It was like this:
At the opening event, Wolfgang had unobtrusively taken Leonie aside and told her about his spontaneous idea to propose at her facility and "by horse". And Leonie, being quite a romantic, had immediately promised her support and help. And that even though we didn't know each other at all! Simply wonderful!
First, the great Boogie was to be the "proposal horse". And so they trained together for weeks. Wolfgang secretly drove the 100 km to Münster in the morning, at noon and in the evening; whenever it was "inconspicuously" possible and he could give me an appropriate "alibi". And then he trained and practised diligently under Leonie's guidance. When Boogie dropped out due to an injury, Leonie did not hesitate and provided Wolfgang with the unique Xinfrim. The two had a few more training opportunities to adjust to each other and then came the big performance. And it was ABSOLUTELY PERFECT!!!
I am still infinitely grateful to Leonie today for making such a unique day (and application) possible for us. This has resulted in a deep bond with her and her wonderful horses. Wolfgang – as a mental trainer – and Leonie have already designed several courses together afterwards. And of course we were allowed to visit them in their unique paradise, on La Perla.
Great Xinfrim at La Perla
When I was allowed to enjoy a ride on the magnificent Xinfrim myself during my first visit to Spain, I was overwhelmed. And I was given the great honour of being able to give the sweet Otaño his name.
Unfortunately, we do not have our own "pearl". One month before we met Leonie and her horses in Münster, I fulfilled my long-cherished dream of owning my own horse by buying my Westphalian gelding "Sunni".
But in our hearts we are absolute "Pearls" and "Leonie" fans!!!